---
Swiss broadcast stations
---
These pages are dedicated to Swiss broadcast stations. They are just a closer look to the transmitters behind their name on the tuning dial of old tube radios. Unfortunately, in the last years, almost all transmitters have been switched off and partially dismantled. These pages are just a nostalgic look to a past telecommunication era when a radio station could be directly heard (with some luck) from the other side of the world and when a simple crystal radio could successfully receive the local station.
When this page was created in 2003, many of these transmitters were still alive: only Schwarzenburg and Lenk were already dismantled while Sarnen was off but the antennas were still standing. Today (December 2016), they are all off and many of them are completely dismantled; only Beromünster, Sottens and Monte Ceneri Pass have one tower still standing, either for historical reasons or it carries VHF/UHF equipment, but none is working anymore as LW/MW antenna.
The list is not exhaustive.
---
To keep this nostalgic feeling alive, here are a few tuning dials of old "wooden" radios: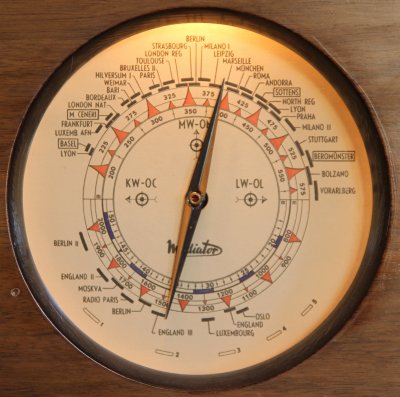 This is the tuning dial of a Médiator M134A, assembled in La Chaux-de-Fonds, Switzerland on December 18th, 1949. The dial shows wavelengths instead frequencies. Swiss transmitters are surrounded by a small rectangle. Please note that they were using different frequencies as they did in the last years.

This is the tuning dial of a Philips BX600 A-16 built in 1951. Swiss transmitters have a nice cross symbol and they have the "usual" frequency (the dial says "Plan de Copenhague").
---
---